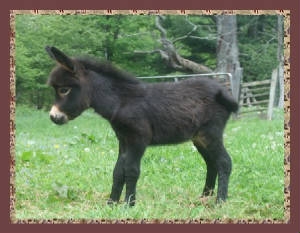 Braethorn Surprise Package
Born on May 24, 2009
True Black No Stripe
~Jennet~
Sire: Parkside Ranch Special Delivery
Dam: D & A Paints Daytime Black (Snuggles)(33" True Black)
This little girl was truly a surprise, mom evidently was bred through the fence while penned next to the jack for a couple of weeks. I was not in the barn for several months, but when I was allowed out there, I realized Snuggles was getting big around and when she started bagging knew why but were not sure how! This little one is straight and drafty and looks to be as nice as her two older half sisters. We may be offering her for sale, please inquire if interested.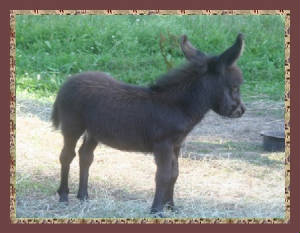 Braethorn Misty Moonshine
Born on June 19, 2009
Black w/ barely visable cross
~Jennet~
Sire: Parkside Ranch Special Delivery
Dam: H.R. Misty May
Our Misty was born at 11:30 PM on a beautiful moonlit night. Mom Misty May had a very full udder and refused to let her baby nurse.So for the next 24 hours, we milked mom and fed baby. We were sure happy when we went to the barn and saw her nursing. She is petite like her mother and has her father's gorgeous head. She may be for sale, let us know if you are interested.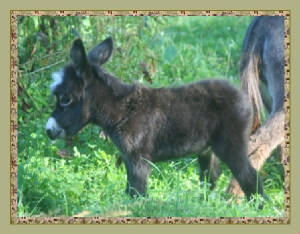 Braethorn Blazin' Rich Brown
Born on July 4, 2009
~Jack~
Sire: Parkside Ranch Special Delivery
Dam: Short Assets Cowboy's Aurora
Isn't he cute?!! Blazin' is as sweet as he looks and will make some one the perfect pet. More info on the Available page.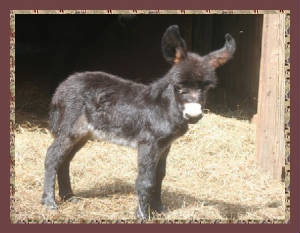 Braethorn Luck Be A Lady
Born on August 28, 2009
True Black
~Jennet~
Sire: Parkside Ranch Special Delivery
Dam: Braethorn Irish Blessing
We really expected this foal to be a boy, but our luck held out.She is drafty and square, beautiful head and loves attention. Sorry, for now she is staying right here!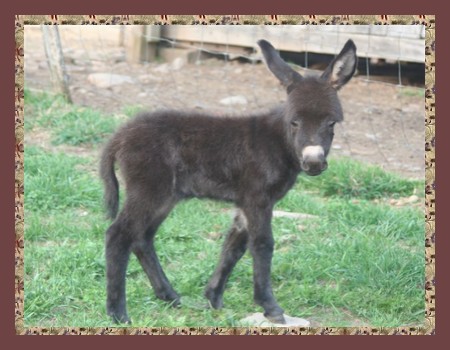 Braethorn Sweet Soul Kiss
Born on April 21, 2008
~Jennet~
Sire: Sunset Acres Where There's Smoke
Dam: D & A She Paints Daytime Black (33" True Black)
This is out first foal sired by Smokey and we are more than pleased. When she was born, she was so dark you could only see her cross in certain light, now the weather has turned her a deep rich brown, so will have to wait a year to see what color she will be for sure. Heavy boned and straight, she combines her parents good qualities with an outstanding pedigree. Sorry, not for sale at this time!!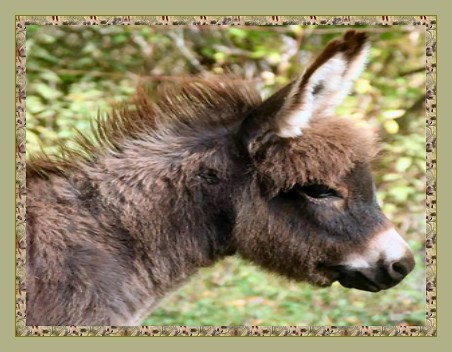 Braethorn Dust Devil
Born on July 30, 2007
~Jack~
Sire: MGF Millennium (32.5" Black with faint cross)
Dam: Braethorn Chiquita Banana (33" Gray)
We named this little boy Dust Devil as he was rolling in the dust before he was even 24 hours old. He is super friendly with a drafty build.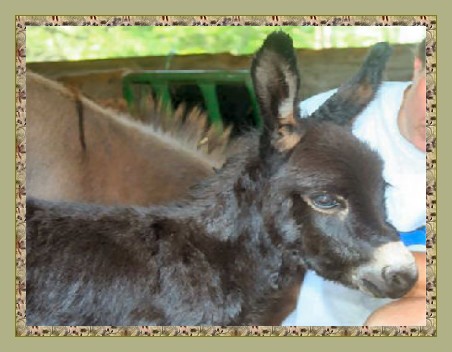 Braethorn Icing On The Cake
Born on June 18, 2007
~Jack~
Sire: MGF Millennium (32.5" Black with faint cross)
Dam: RoseWood Chloever (32" Sorrel)
I was with mom through the whole delivery, this little man was the icing on the cake, especially since we had his father gelded just days before he was born. He has nice straight legs and a gorgeous head, nice heavy bone, too. Very outgoing, nothing bothers him. His pedigree is full of proven producers of quality.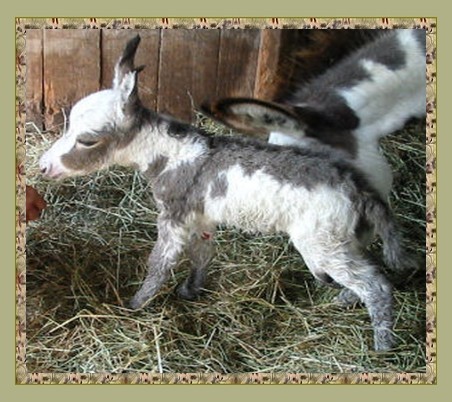 Braethorn A Fine How Do You Do
Born on August 20, 2006
~Jack~
Sire: MGF Millennium (32.5" Black with faint cross)
Dam: Braethorn Shirley's LoAss (32" White & Gray Spotted)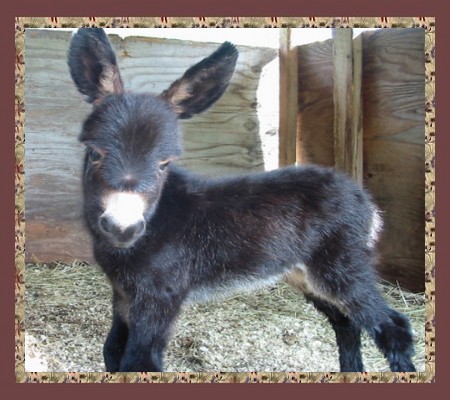 Braethorn Irish Blessing
Born on May 28, 2005
~Jennet~
Sire: Sunset Acres Irish Rambler (33" Sorrel)
Dam: D & A She Paints Daytime Black (33" True Black)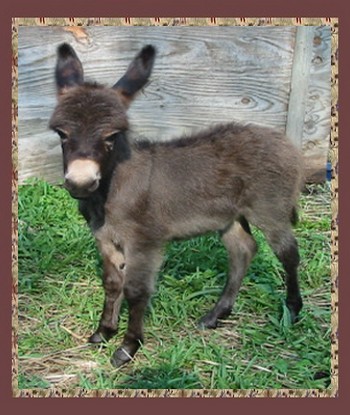 Braethorn Toot Toot Tootsie
Born on June 7, 2005
~Jennet~
Sire: Gladyebrook Chipper (30" Gray)
Dam: Cisco & Sons Berry Sweet Girl (32" Dark Brown)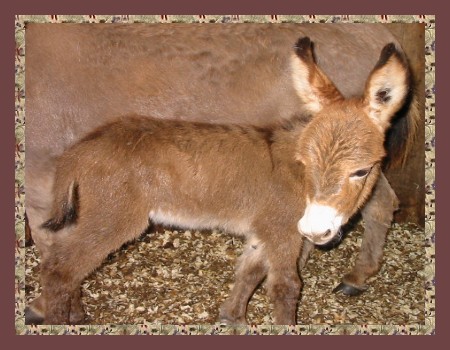 Braethorn Irish Ramblin' Rose
Born on June 22, 2005
~Jennet~
Sire: Sunset Acres Irish Rambler (33" Sorrel)
Dam: RoseWood Chloever (32" Sorrel)

Braethorn Nash Rambler
Born on August 18, 2005
~Jack~
Sire: Sunset Acres Irish Rambler (33" Sorrel)
Dam: Braethorn Chiquita Banana (33" Gray)