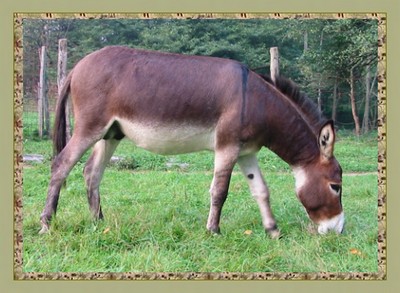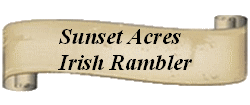 D.O.B: November 4, 2001
Height: 33"
Color: Dark Cherry Red Sorrel
S.S. Red Lightening (32" Dark Sorrel)

Sire: Circle C Black Russian (30" Black w/ Cross NLP)

Circle C Ebony (34" Black)

Double D Farm Johnny Cake (32" Sorrel)

Dam: Double D Fams Little Bit (31.75" Sorrel)

Danby Farm's Susie Bell (33" Dark Sorrel)
Irish was a beautiful deep red jack which we used for one breeding season. We are very happy with the two daughters we retained, one a dark red just like dad, the other a true black. Irish is a perfect example of the proven genetics of Circle C and Sunset Acres.

Sunset Acres Irish Rambler's Photo Album