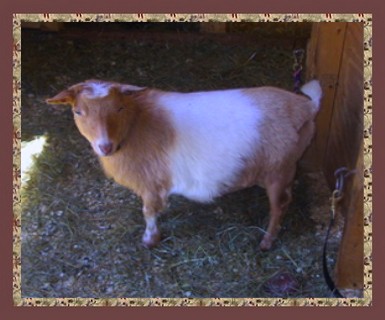 God's Love Farm Reeses

D.O.B: February 4, 2006
Sire: Silveraurora JC High Velocity *S
Dam: Dawnland Tabby's No Plain Jane
Reeses is an orange/gold and white with blue eyes.
DHI 2008 1.02 20 302 443 28 6.3% 20 4.5%
"Reeses came to us as a traveling companion for Jewel.We liked her pedigree and we were pleased to see that she is wide and level, a very strong doe,who has her star.Another thank you to Carlene!!! She is bred to Igasho and due 31 May 2011.Reeses freshened 26 May 2011 with beautiful twin does.One is white with black and brown markings,brown eyes.The other is pale gold and white with blue eyes.Reeses will be bred to our son of Iggy and X's &O's(still trying to come up with the perfect name for him!) for Spring 2012 kids.
Sire
Silveraurora JC High Velocity*S

Sire
Jobi Cloud *S
Sire
Jobi Crown *S HES:89.45
Dam
Jobi Cream 2*D AR1601
Dam
QSF DTI Patience*D AR1782

Sire
Artist's Eye Dressed to Impress
Dam
Piddlin Acres Twilight
Dam
Dawnland Tabby's No Plain Jane

Sire
Rosasharn Tom's Water Tabby*S
Sire
ARMCH Goodwood Tom Thumb +*S "E"
Dam
ARMCH Goodwood Water Lilly *D "E"
Dam
Old Mountain Farm Mwee Neesk

Sire
Rosasharn's Little Bear *S
Dam
Old Mountain Blue Raindancer
God's Love Farm Reese's Photo Album