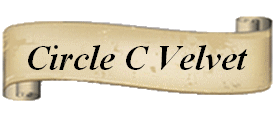 D.O.B: May, 25, 2000
Height: 33.5"
Color: Dark Brown
S.S. Sampson (Dark Brown 32.75")
Sire: Red Lightening (Dark Chestnut 32")
S.S. Sara (Dark Brown 31.5")
Untraced
Dam: Colita of Circle C (Brown 34.5")
Untraced
We were thrilled to be the winning bidder on Velvet at the 2003 Vermont sale. We were even happier the following spring when she foaled with a lovely dark brown NLP jennet sired by MGF Leroy. Velvet has that Red Lightening "look" that he stamps on his offspring. Velvet was shown in Canada. She was 2nd in a large halter class and 4th in a huge maturity class at Red Deer's Mini Extravaganza Show. She also was 4th in halter at Calgary's World Show.

Circle C Velvet's Photo Album