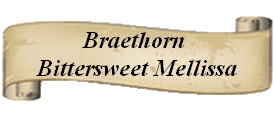 D.O.B: June 13, 1999
Height: 31"
Color: Gray
Gladybrooke Skip (Dark Brown)
Sire: Gladybrooke Chipper (30" Gray)
Gladybrooke Sunny Daze (30" Gray)
Ass-pirin Acres Country Gentleman (32" Gray)
Dam: Pheasant Meadow Farm Veronica (32" Gray")
Ass-pirin Acres Echo (Gray)
This jennet is one of our favorites. She is even nicer than her sister, Chiquita, which is saying a lot. Our farrier always comments on her feet and legs, but the rest of her is really nice too!

Braethorn Bittersweet Mellissa's Photo Album