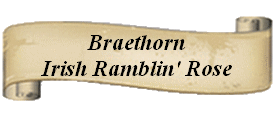 D.O.B: June 22, 2005
Height:
Color: Sorrel
Circle C Black Russian (30" Black with Cross)
Sire: Sunset Acres Irish Rambler (33" Sorrel)
Double D Farm Little Bit (31.75" Sorrel)
My World Winston (31.5" Sorrel)
Dam: Rose Wood Chloever at Braethorn (32" Sorrel)
Feather Ridge Nutmeg (32.5" Sorrel)
This little lady in red is special and she knows it. Her parents sure came through on this one! We thought the My World and Sunset Acres lines would click and here's the proof.

Braethorn Irish Ramblin' Rose's

Photo Album