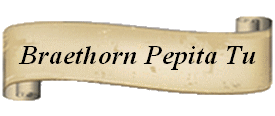 D.O.B: June 21, 1997
Height: 33"
Color: Gray
LCR Valentino 75 (33" sorrel)
Sire: Feather Ridge Valiant Price (32.75" light sorrel)
Feather Ridge Louise (32.25 Gray)
Ass-pirin Acres Country Gentleman (Gray 32")
Dam: Pheasant Meadow Farm Veronica (32" Gray)
Ass-pirin Acres Echo (Gray 32")
Pepita Tu was our long awaited first jennet foal (after a string of boys!). Her father was a beautiful jack, and rightly so, being a son of Red Baron. Her mother was one of our first jennets and we have kept all three of her daughters.

Braethorn Pepita Tu's Photo Album