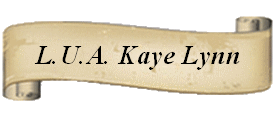 D.O.B: November 6, 1992
Height: 30.5"
Color: Gray
Pine Lake O.J. (Gray 32")
Sire: Thompson's Petey (Gray 31")
Pine Lake Twiggy (Gray 34")
Mac's Dallas Dandy (Gray and White Spot 35") (son of Rockbride Maracas)
Dam: Kaufman's EC MacBeauty (Gray and White Spot 34")
Kaufman's Mary (Gray 36")
We call this little girl "Jealousy", because she WANTS your attention! The minute we saw her photo we had to buy her, though we had no plans to add such a small jennet. She is drafty and wide and foals easily. She came to us bred to Gladybrook Skip and we kept her jennet foal, Gin Blossom.

L.U.A. Kaye Lynn's Photo Album