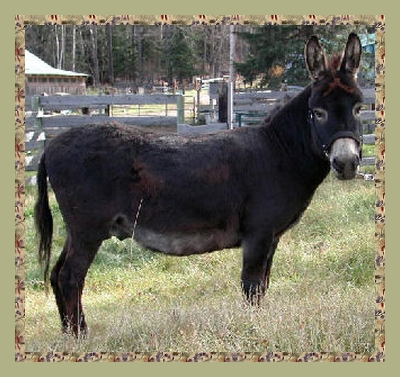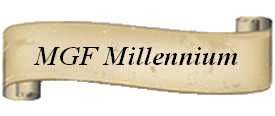 D.O.B: June 20, 1996
Height: 32.5"
Color: Black w/ Cross
Dodge City Miniatures Poquito Bandito (30" Black)

Sire: Dodge City Miniatures Jack of Spades (31.5"" Smokey Black NLP)

Dodge City Miniatures Aunt Jemima (33" Black)

GP Peanut (32.5" Brown and White Spot)

Dam: MGF Venus Immortal 97 (35" Dark Brown and White Spot)

MGF Venus Amanda 13 (32" Gray)(daughter of 758's Rosebud)
Millennium is the most mild mannered jack we have ever had the pleasure of owning. He loves attention and is a very gentle breeder. The one foal we have is staying small and correct, we are anxious for his 2007 foals to arrive. Millennium was gelded last June. He loves to play with the foals and keeps a careful eye on his jennets.M has gone to a new home with Chiquita.

MGF Millennium's Photo Album